About The Seller
Cranes & Equipment Corp. is the exclusive United States distributor for Copma knuckle boom cranes. Our central location in Peoria, Illinois, makes the distribution of cranes, parts and service ideal for our customers. We offer more than 35 years of experience in the articulating crane industry. Specializing in BOOM TRUCKS for all vocations, we are able to put together the right tool for your job, by working to understand your needs. Ask about our fully hydraulic options! Our staff of sales professionals and network of dealers gives us a national presence, and puts a friendly, knowledgeable face into a very competitive market. Our technical staff are specialists in articulating cranes. We support our staff and customers with a well stocked warehouse of parts.
3 Knucklebooms for sale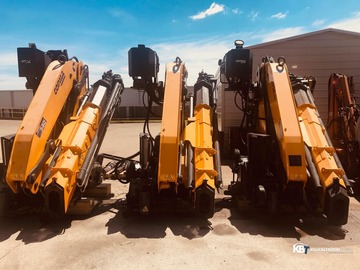 Copma 340.8 SC Forming Crane
Lifts
2,250 lbs @ 64 ft 6 in
Max Lift Capacity
30,200 lbs
Used 2018 Copma 340.8SC unmounted knuckleboom. Rated for 2,250 lbs @ 64'6" Great forming crane with no electronics. Also available: 2016 Copma 340.8 SC $24,900 2017 Copma 340.8 SC $27,750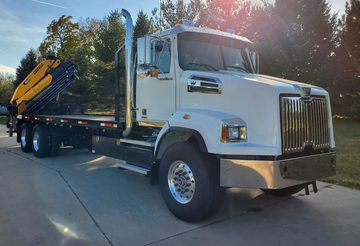 COPMA 450.8SC FORM HANDLING TRUCK
Lifts
3,170 lbs @ 65 ft 4 in
Max Lift Capacity
43,540 lbs
Our new Copma 450.8SC crane is delivering 3,170 lbs. at 65′ 4″ of reach. With the SC boom still allowing to pick your 9′ forms at the back of the bed. With the continuous rotation feature it makes ...
COPMA 650.6J6 GRAPPLE SAW TRUCK
Lifts
1,590 lbs @ 94 ft 4 in
Max Lift Capacity
28,220 lbs
This Copma 650.6J6 knuckle boom no diverter valves, 8 individual functions on the control valve. With the 5/8″ hoses going to the grapple saw it allows for max flow to get the best performance from...