A Game Changer for Urban Tree Removal
By Todd Brady
Imagine cutting down a whole tree without ever having to climb it. Imagine controlling everything safely from the ground via remote control, without the fear of falling or injury. This is possible through the use of a Mecanil grapple saw attached to a knuckle boom crane.
The Mecanil grapple saw is the safest and most efficient method for tree removal. Controlled from the ground via a remote control unit, the grapple saw eliminates the need for climbing, rigging and cutting by hand. Aside from faster tree removal, the grapple saw saves you money, promotes safety, and alleviates the need for a tedious clean up.

Be it a small or big job, tree removal can be dangerous work. According to the Tree Care Industry Association, in 2015, there were 125 fatal and 59 serious accidents in the tree care industry. Workers in the industry have to contend with the unpredictability of Mother Nature, as well as rely on the skills and experience of their fellow employees. There will be times that big trees get blown over, branches get tangled, and workers need to cut through dangerous debris. Cutting through debris requires being able to cut close to the stump as safely as possible. Trees can be under tension and sudden releases could potentially produce whiplash. Limbs and branches cut from above can fall on people or property below.
While accidents can still occur in work sites, utilizing the proper tools and equipment can minimize their occurrence and severity. By using a grapple saw, you eliminate the need for a climber and the cost of hiring additional workers, and consequently prevent accidents and injuries that go hand in hand with tree climbing and removal.
Video: PM 100 grapplesaw truck with 126 feet of vertical reach!

How does the grapplesaw work?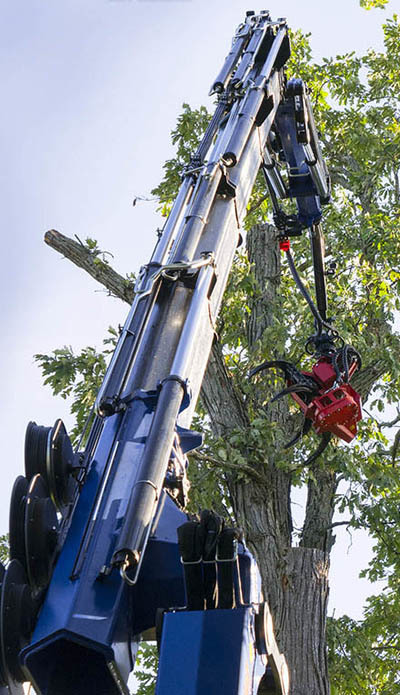 The process of using this tool is simple – a grapple saw locks onto the tree and then cuts it. The tool combines the features of a highly efficient, high-powered chainsaw that can cut through wood within seconds, and a strong vice-like grapple that locks onto the tree allowing the operator to lower the limb to the ground in a controlled manner preventing property damage or injury to people below.
A highly reliable piece of machinery, the features of the Mecanil grapple saw include: stability in both the felling and loading position, saw bar and grapple controls that are independent of each other, controls that enable tilting and rotating of the grapple saw to access hard-to-reach places, three grapple claw style choices, and complete wireless control.
Grapple saws can be utilized in small or big jobs, and they can be installed on a variety of vehicles, such as knuckle boom trucks, tractors, and excavators to name a few.
Interview with Glenn Gerasimek
We interviewed Glenn Gerasimek, the owner of Gerasimek Tree & Stump Removal Inc. Glenn was one of the the first in North America to offer urban tree removal with a Mecanil grapple saw and knuckle boom crane which he calls "Tree-mek". Glenn has been extremely efficient with his Tree-mek and has been kind enough to share his story with us to help educate the industry on this amazing piece of technology.
KBT: You are considered by many to be a pioneer in grapple saw use for urban tree removal in North America. How did you discover the grapple saw and knuckle boom crane combination?
Glenn: I discovered the Mecanil SG220 on a fuzzy, low quality video on YouTube about 4 years ago. I, like most guys I know who cut trees in the Northeast, spend all winter researching new equipment to invest in. After seeing that video, I knew it was what the tree industry needed. I figured if it can be done in Europe, it can be done here, only better.
KBT: How long have you been using a Mecanil grapple saw and knuckle boom crane?
Glenn: I bought a Mecanil SG220 in the spring of 2014 and used it on my little Hiab 090 knuckleboom that had only 40′ of reach. I quickly learned how safe, efficient, and profitable it was. My only deficiency was the reach, so I started designing a crane/truck/Mecanil SG220 setup that would become the Tree-mek. After much research, I chose to sell my 75′ rear mount elavator bucket truck and my small Hiab knuckleboom truck and purchase a Palfinger PK33002-EH rear mounted on a Mack 688. 2014 convinced me I couldn't fail and 2015 was proof that I made the best decision. It was my most profitable year to date with turning down all trimming jobs and focusing solely on removals. Also, I did it with only 1 employee and only 2 trucks total, including the tree-mek.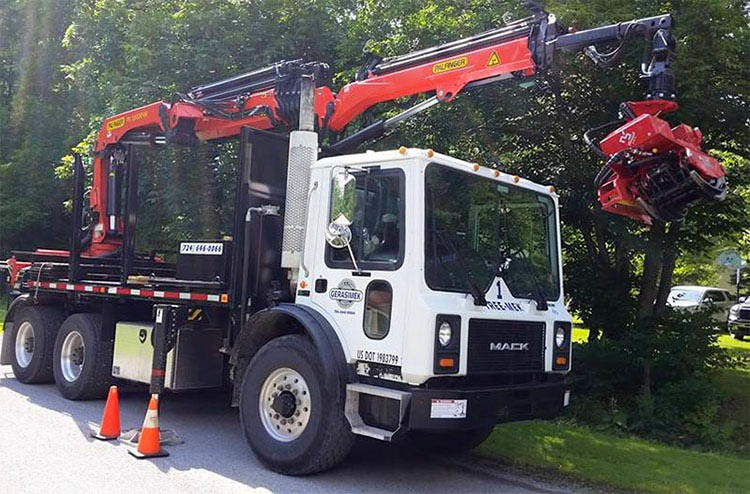 KBT: You call your truck a "Tree-mek". What's the story behind this name?
Glenn: "Tree-mek" is kind of short for "mechanized tree removal system". The "mek" is the last 3 letters of my last name to salute my father for getting me started in the tree industry when I was a teenager. The name just fits. Everyone seems to like it and the name separates it from an ordinary crane. The Tree-mek is a pretty specialized piece of equipment. I put a decal on the front of mine that says "Tree-mek 1". The guy that has the 2nd one has "Tree-mek 2". There is a total of 5 at this time the proudly display the Tree-mek decal. It's like a club of like-minded, innovative guys that enjoy technology, tree removal, and making a comfortable living. We try to share ideas and keep improving the tree-mek design.
KBT: Safety is a big concern in the tree trimming and removal industry. Do you feel tree removal using a Mecanil grapple saw is safer than traditional tree removal methods?
Glenn: Is there risk? There is risk in every method, but I believe without doubt, there is no safer method to remove trees and big limbs than with a remote control tree-mek. No climber, bucket, ropes, or rigging. Less employees means less human error and less liability. Limbs are held, cut, and set down where you want them, not where they need to come down. On most trees, a chainsaw is only used to make two or three cuts. This setup eliminates a ton of risk. I know it's hard to believe, but every guy that has come to watch me work has bought one or is in the process.
KBT: A knuckleboom crane and grapple saw combination can be intimidating to use for a new operator. Do you have any tips to help new operators?
Glenn: If you've never used a knuckleboom, it will definitely be challenging. The guys that are just starting need to train themselves to take small pieces. That way, when you underestimate a limb, and you will, you won't put your crane at risk. It won't take long to find that comfortable size piece that you can bring down, rotate, and set on the chipper deck for your 1 employee to process while you're cutting another one.
KBT: A knuckle boom crane is a very versatile piece of equipment. What else can you do with your knuckleboom?
Glenn: Versatility is the key to any successful tree removal business and the Tree-mek delivers. It's a crane, a climber, a log loader, and brush mover. I have a basket that I can attach and then I have a bucket truck with 100′ working height and 87′ of side reach.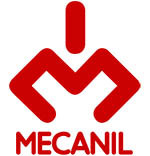 KBT: There are a few different brands of grapple saws on the market, why did you choose a Mecanil grapple saw?
Glenn: I chose Mecanil based on my experience with the company. They were very professional, helpful and courteous. Very nice people to work with. They are continually improving and refining their design. I'm very happy with my choice.
KBT: Have you been hired for job because you use a crane over traditional methods for tree removals?
Glenn: I have found that nearly all customers will hire a Tree-mek over a traditional service for several reasons. Most jobs can be done with little to no impact on a lawn, there is zero chance of anyone falling, and very little chance of injury. When you tell a customer that their tree will be removed piece by piece with a remote controlled machine, you pretty much have it right there. The only jobs that I don't get are ones that are really underbid and the customer really struggles with it. They don't want a guy in their tree when there is a Tree-mek available. I have on many occasions, had customers pay far more for my Tree-mek instead of hiring a traditional service. People know what is safer and that's what they want and are willing to pay for.
KBT: What made you decide to invest in a knuckle boom crane and grapple saw?
Glenn: There are a couple sayings that have been around for hundreds, maybe thousands of years that I have also found to be true. "I'm not getting any younger" and "you can't find good help". These are the 2 main reasons I made the investment in the Tree-mek. So, if you don't age and you enjoy looking after employees, you just won't make the investment.
Mecanil SG160 Technical Data
| Model | SG160 | SG160 RC | SG160 A | SG160 A RC |
| --- | --- | --- | --- | --- |
| Tilt Function | Yes | Yes | Yes | Yes |
| Collecting Unit | No | No | Yes | Yes |
| Grapple Opening | 37" | 37" | 37" | 37" |
| Weight* | 420 lbs | 455 lbs | 485 lbs | 520 lbs |
| Rec. Oil Flow Rate | 11 - 21 gpm | 11 - 21 gpm | 11 - 21 gpm | 11 - 21 gpm |
| Control | Wired | Wireless | Wired | Wireless |
| Cutting Diameter (saw bar) | 16" | 16" | 16" | 16" |
| Lift Capacity | 3,300 lbs | 3,300 lbs | 3,300 lbs | 3,300 lbs |
Mecanil SG220 Technical Data
| Model | SG220 | SG220 RC | SG220 A | SG220 A RC |
| --- | --- | --- | --- | --- |
| Tilt Function | Yes | Yes | Yes | Yes |
| Collecting Unit | No | No | Yes | Yes |
| Grapple Opening | 47" | 47" | 47" | 47" |
| Weight* | 640 lbs | 705 lbs | 795 lbs | 840 lbs |
| Rec. Oil Flow Rate | 11 - 21 gpm | 11 - 21 gpm | 11 - 21 gpm | 11 - 21 gpm |
| Control | Wired | Wireless | Wired | Wireless |
| Cutting Diameter (saw bar) | 18" | 18" | 18" | 18" |
| Lift Capacity | 4,400 lbs | 4,400 lbs | 4,400 lbs | 4,400 lbs |
Mecanil SG280 Technical Data
| Model | SG280 | SG280 RC | SG280 A | SG280 A RC |
| --- | --- | --- | --- | --- |
| Tilt Function | Yes | Yes | Yes | Yes |
| Collecting Unit | No | No | Yes | Yes |
| Grapple Opening | 58" | 58" | 58" | 58" |
| Weight* | 740 lbs | 815 lbs | 905 lbs | 970 lbs |
| Rec. Oil Flow Rate | 16 - 26 gpm | 16 - 26 gpm | 16 - 26 gpm | 16 - 26 gpm |
| Control | Wired | Wireless | Wired | Wireless |
| Cutting Diameter (saw bar) | 25" | 25" | 25" | 25" |
| Lift Capacity | 5,500 lbs | 5,500 lbs | 5,500 lbs | 5,500 lbs |
About Mecanil
With headquarters in Finland, Mecanil Oy Ab is a family-owned company founded in 1990 by Christer and Ilse Nilsson.
Working as a forestry contractor in South-Western Finland in 1998, the Nilssons observed and realized that there was a lack and a great need for forestry machine services.
Mecanil delivers high-quality products that are built to last, based on what the market requires and what their customers want. Currently, the company is focused on creating and manufacturing efficient, safe and easy-to-use energy wood grapples and grapple saws.