Lifetime Excellence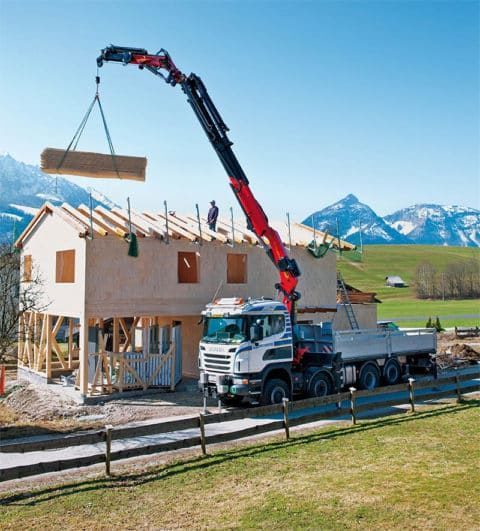 PALFINGER, a multinational company group with headquarters in Salzburg, Austria, began in 1932 as a metalworking and repair shop. Since then, they have expanded with manufacturing and assembly locations in North America, South America, Europe and Asia along with over 5,000 sales and service centres in over 130 countries around the world, with the Knuckle Boom Loader Crane as their core product. The company has a selection of over 120 knuckleboom crane models, maintaining a market share of about 30 percent and is also the largest manufacturer in the world of forestry and recycling cranes, as well as container handling systems. They also offer tail-lifts, mounted forklifts, railway applications, bridge inspection equipment. The marine division is a leading worldwide provider of cutting-edge marine, offshore and wind cranes.
The brand stands for the most innovative, reliable and cost-effective lifting solutions for use on commercial vehicles and in the maritime field. Sustainability and the responsible use of the earth's resources are at the core of all Palfinger's actions.
Palfinger Features
Palfinger cranes are equipped with load sensing (LS) systems to recognize the lifting power required at any given moment and to sensitively adjust the pumping and engine performance according to its readings. The LS system saves up to twenty percent fuel in the loading process. They are also the first manufacturer of truck-mounted knuckle boom cranes equipped with electrically operated hydraulic pumps. Electric motors on Palfinger products make for minimal emissions as well as minimal noise pollution.
HPSC System
HPSC, High Performance Stability Control, aids in comfort and safety especially where space is restricted and the vehicle can only be supported on one side or perhaps not at all. HPSC stability control system uses sensors for proportional length measurement located in the stabilizers make their positioning fully variable. As a result, it is possible to calculate the permissible safe working range for any for any stabilizer situation. The stability is recalculated for every crane position in real time. HPSC-L is a light alternative that monitors stability within a 360 range using the same algorithm as the HPSC for calculations. The sensor system is mounted inside the unit, protected from damage, dirt, and the elements present in any working environment including marine and military.
PALcom P7 Radio Remote
A newly developed radio remote control unit combining cutting-edge design with excellent operator-friendliness, safety and working efficiency. Some of the features of this controller include ergonomic design based on intuitive use by the operator allowing fatigue-free work over extended periods of time. A centrally located 4.1 inch TFT colour display with transflective technology allows the operator to view vital information even in direct sunlight, safety features such as rollover and acceleration sensors that prevent accidental crane shifting, and an energy management system that extends the service life of the batteries.
P-Fold System
An additional function of the PALcom P7, the P-Fold assistance system is available exclusively for all cranes in the SH model series. The P-Fold system allows the crane operator to set in motion the crane by using a single lever on the PALcom P7. The P-Fold controls take over co-ordination of the crane movements until a set working position has been attained. The P-Fold system increases operator comfort, reduces setup times and prevents costly damage to the vehicle, cargo, and surrounding areas.
Rope Tension Control
The Rope Tension Control (RTC) is an automatic rope tensioning device that makes it easier to fold and unfold the knuckleboom crane with the rope(cable) reeved in and the fly-jib mounted. If any crane operations are performed that affect the rope length, the RTC system will automatically adjust the rope length to match. No longer does the operator need to stress about continually adjusting the reeved-in cable. The RTC system executes this burden automatically and as a result the cable and pulley head can remain permanently mounted on the Palfinger loader crane.
Popular Palfinger Models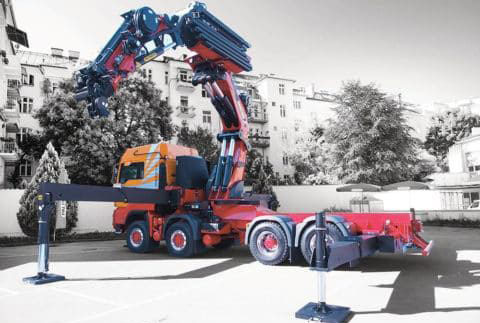 PK 165.002 TEC 7
The new PK 165.002 TEC 7 is the next generation of Palfinger knuckleboom cranes, designed specifically for trucks with a 32 ton weight limit rating.
This new crane blends strength with long reach. The goal was to "develop a crane that is designed for heavy loads and high reach capacities while reducing the weight at the same time" says Gerald Pschernig, Managing Director of Business Unit Cranes at Palfinger.
The PK 165.002 TEC 7 with PJ 300L fly-jib has a maximum lifting height of 131 feet.
PK 6501 High Performance
The PK 6501 High Performance crane is a highly efficient model designed for mounting on a light-weight truck chassis. This crane reduces maintenance work as it is equipped with a maintenance-free boom system with self-lubricating synthetic slides. Other features include a knuckle joint on the knuckle boom, high speed extension booms, PAL 50, and optional radio remote control and HPSC.
At it's maximum hydraulic outreach of 11.m (36'5″) it will lift 470 kg (1020 lbs) and has a maximum lift capacity of 3100 kg (6830 lbs).
PK 22002-EH High Performance
The PK 22002-EH High Performance crane is ideally suited for mounting on a tipper truck. This crane had a low deadweight and is equipped with a double telescope stabilizer system, providing a large stabilizer width. Other features include KTL protection, PAL 50, and optional radio remote control, HPSC, and AOS.
At it's maximum hydraulic outreach of 17.m (56'1″) it will lift 830 kg (1820 lbs) and has a maximum lift capacity of 6100 kg (13440 lbs).
PK 48002-EH High Performance
The PK 48002-EH High Performance is a multifunctional heavy-duty loader crane. Handling containers, recovering vehicles, moving heavy machinery or performing assembly work – this crane will master a variety of different tasks with ease.
Some of the features include High Speed Extensions, KTL coating, and Power Link Plus, a 15-degree reverse linkage system which allows the crane to reach through low openings and work inside tight spaces.
At it's maximum hydraulic outreach of 16.2m (53'2″) it will lift 2300 kg (5000 lbs) and has a maximum lift capacity of 15200 kg

PK 200002 L SH High Performance
The PK 200002 L SH High Performance is a extra heavy-duty loader crane designed for tasks that require a long outreach.
Some of the features include a light and stiff boom thanks to the P-Profile design, special stabilizer design, PAL150 controls and Power Link Plus.
At it's maximum hydraulic outreach of 25.4m (83′) it will lift 3950 kg (8,700 lbs) and has a maximum lift capacity of 40000 kg (88,200 lbs). With an optional fly-jib attached it has an impressive 47.9m (157′) of reach.